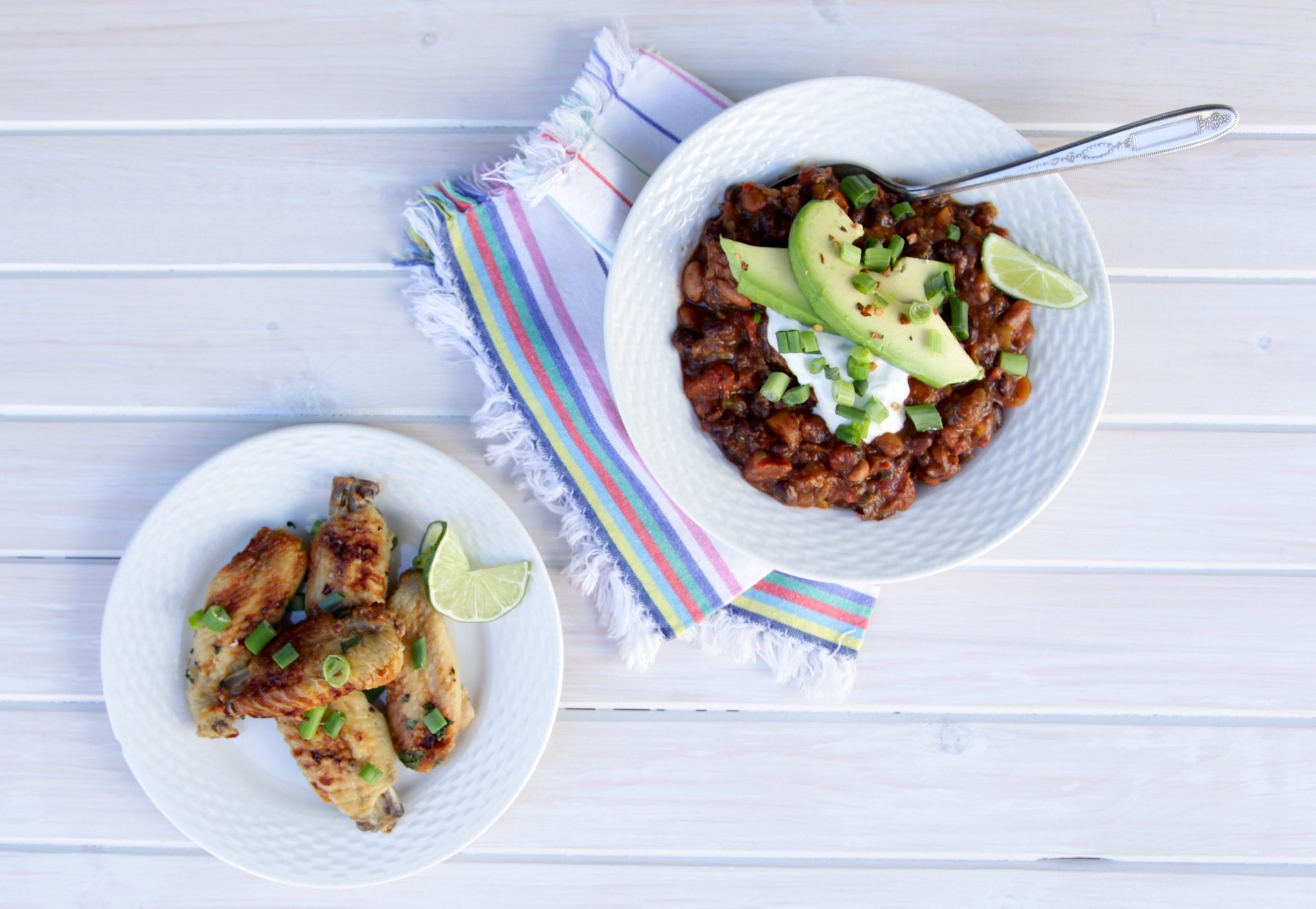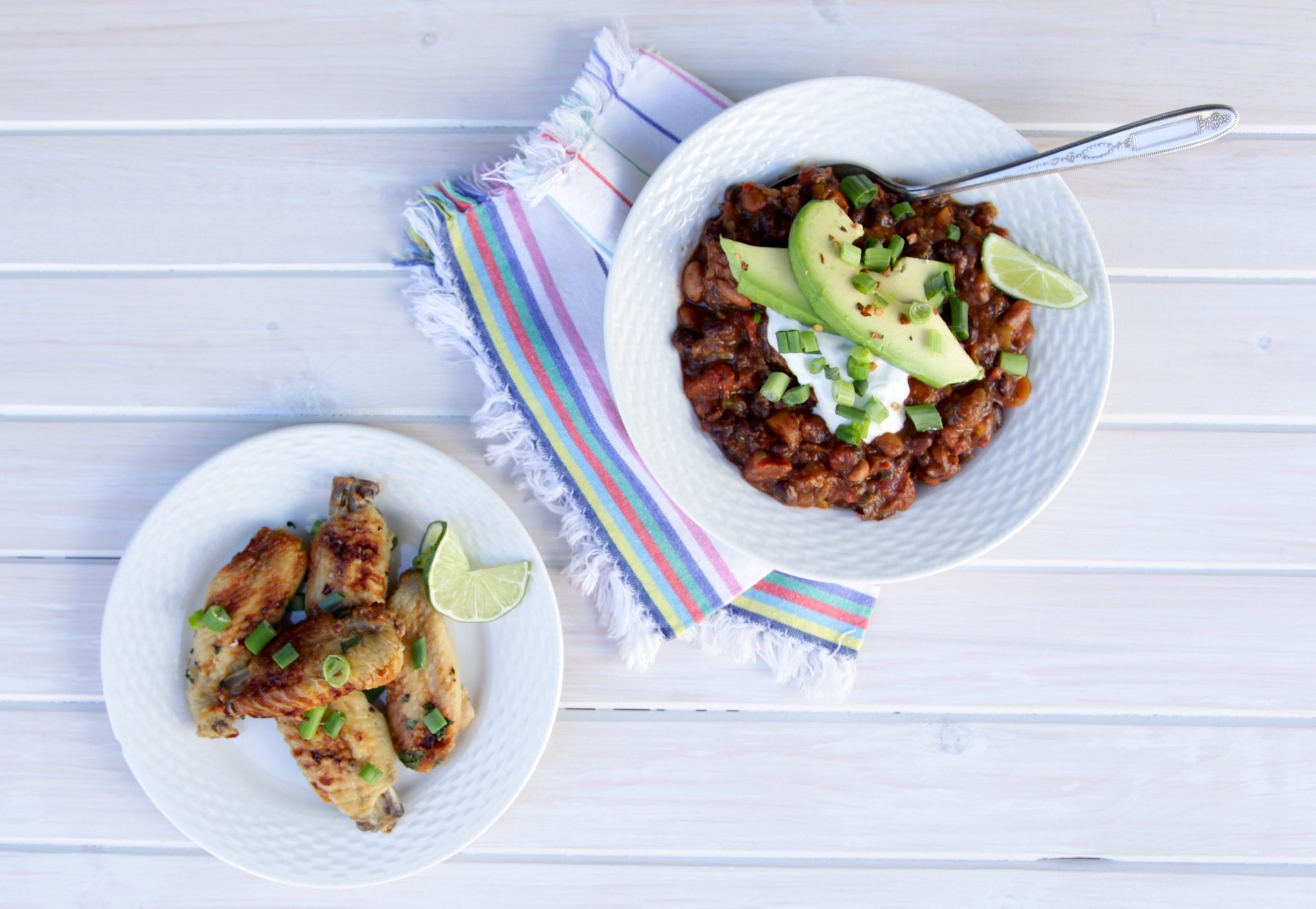 I'll be the first to admit that when it comes to the Super Bowl, I am pretty indifferent which teams participate. In fact, I'm more interested in skipping to the game's highlights as well as the halftime performance, because #Beyonce. Oh, and we can't forget about the commercial breaks. The Budweiser commercials get me every time.
Though it's unlikely I'll ever be a football fanatic, I do relish an ice cold beer, some good food, and even better company. This year, I decided to whip up something a little different than the typical buffalo wings and chili combo. Instead, I marinated 3 pounds of chicken wings in tequila as well as cooked up some spicy meatless chili. After all, vegetarians need to eat too! And, for dessert, I decided to create a hybrid blend of traditional stadium fair: popcorn, pretzels, peanuts, and chocolate. This salty, sweet treat is the ultimate crowd pleaser!
Ingredients (for the wings)
3 lbs chicken wings
1 cup tequila
1/2 cup fresh squeezed lime juice
3 tbsp. sugar
1-2 tbsp. olive oil
1 tbsp. salt
1/2 tsp. ground crack pepper
1 tsp. chili flakes
Cilantro or chopped scallions (for garnish)
Directions
1. Add thawed chicken wings to a large plastic bag.
2. Add all seasonings and ingredients to the bag. Mix well.
3. Refrigerate wings and allow to marinate (at least 4 hours; longer is better)
4. Preheat oven to 400 F.
5. Cover large baking sheet with tin foil and spray with non-stick spray (very important to use enough spray as the marinade is high in sugar).
6. Evenly spread wings over baking sheet. Drizzle marinade over chicken (just enough to cover chicken).
7. Allow wings to bake for about 1 hour, or until the chicken is tender and skin is golden brown.
8. Once chicken cools, add cilantro as garnish.
9. Ready to serve! I served these with blue cheese dip. I highly recommend this unbeatable combo!
Now, time for some chili!
Ingredients (for the chili)
Salt, for seasoning
1-2 tbsp. olive oil
1 medium red onion, chopped
1 large red bell pepper, chopped
3 medium carrots (2 finely chopped, 1 cut into bigger pieces)
2 ribs of celery (1 finely chopped, 1 cut into larger pieces)
2 tsp. cumin
2 tsp. smoked paprika
1 tsp. dried oregano
1/2 tsp. cayenne pepper
1 tsp. chili flakes
1 tsp. Sriracha
28 oz. can diced tomatoes
30 oz. can black beans
15 oz. can pinto beans
7 oz. can mild diced green chilis
1 3/4 cups vegetable broth
1 bay leaf
3 tbsp. cilantro
Juice of 1 lime
Optional garnish: Chopped cilantro, diced scallions, sliced avocado, sour cream, cheese, and tortilla chips.
Directions
1. Using medium heat, warm 1-2 tbsp olive oil in a dutch oven or large stock pot.
2. Add chopped onion, bell pepper, and finely chopped carrots and celery. (The larger pieces will be thrown in later).
3. Add a pinch of salt.
3. Allow vegetables to get tender, which takes about 10 minutes.
4. Add all spices to the pot. Be careful not to add too much if you're sensitive to spice. Stir for 30 seconds to a minute.
5. Add diced tomatoes, black beans, pinto beans, mild diced green chilis, vegetable broth, bay leaf and larger chopped carrots and celery. Cook on medium for 3-5 minutes, and then allow to simmer for 45 minutes. Mix occasionally to prevent burning.
6. Using an immersion blender or potato masher, mash about two cups of chili until it is smooth. This will give the chili more texture.
7. Serve using your garnish of choice. Enjoy!
Now, my favorite part: dessert!


Ingredients (for the dessert)
Kettle corn, popped
Small pretzels
Semi sweet chocolate chips, melted over a saucepan. Pro tip: Add 1 tsp. olive oil for a shiny, smooth consistency!
Reese's Peanut Butter Cups
Peanuts
Note: I did not include measurements as it truly depends how many people you plan to serve. There are no rules or fancy directions to make this dessert – allow guests to add toppings to their liking!